THE BACKYARD BBQ WORKSHOP
Hosted By The Makers University Creative Coaches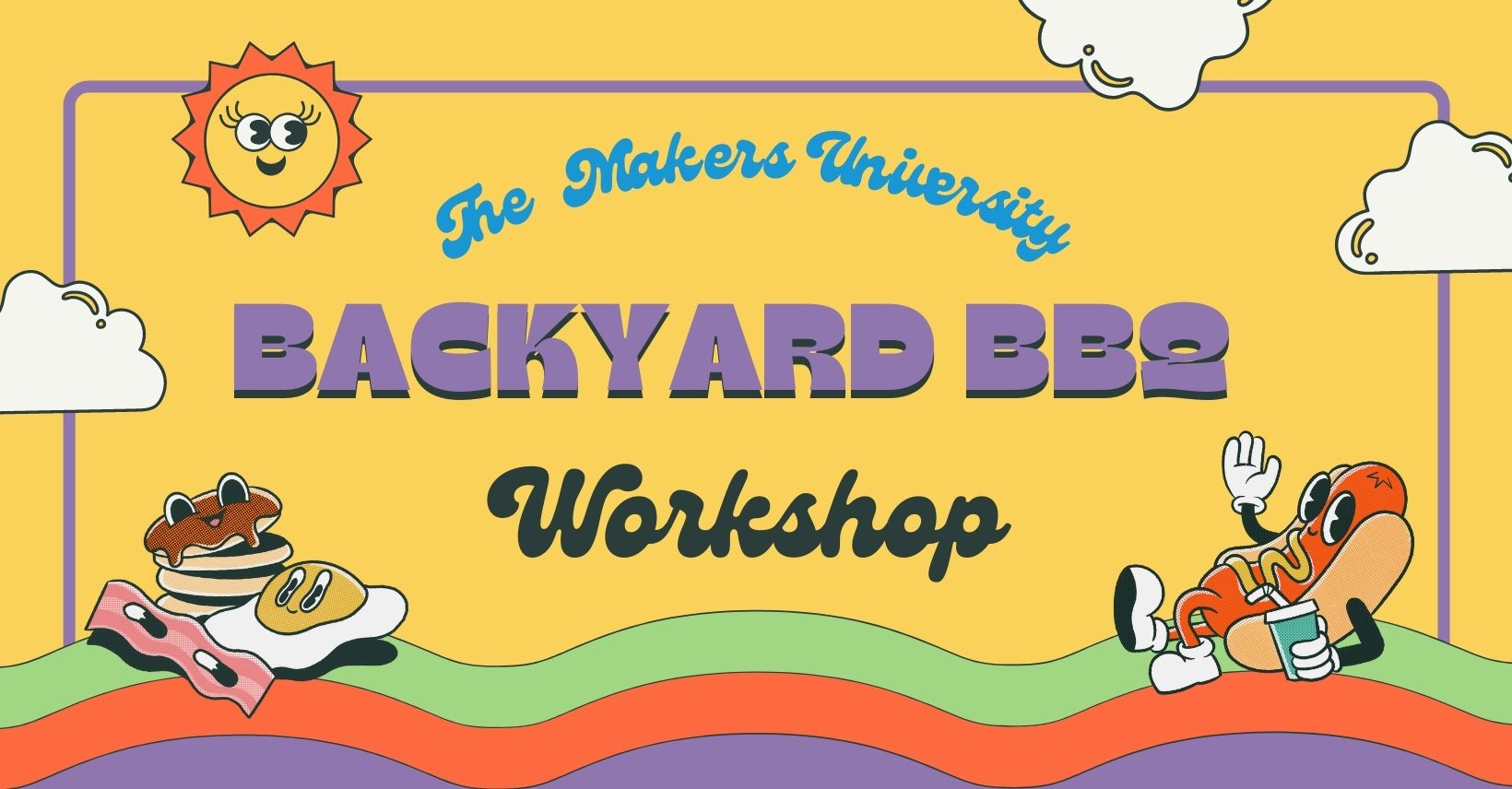 Learn to make multiple designs that you can list for sale or add into your own creations for your own home or a clients home... 
What is The Theme of Backyard BBQ Workshop?
When we think of summer, we think of pool parties, BBQs, and just having fun outdoors... In the Backyard BBQ workshop we want to share everything Summer fun with you!  
What is The Backyard BBQ Workshop?
It's 3 days of classes from 6 designers with their own unique styles and techniques. Each designer will show you how to create an item that can be used in your own creations or that you can list for sale.
We have the following items to teach you:
Wreath
No Sew Wreath Attachment
Swag
Table Arrangement / Centerpiece
DIY Decor
Balloon Garland
When is The You're Invited Workshop?
The event will be held on 5/18/22 - 5/21/22. You will keep access to all of the workshop videos to re-watch as needed. After the workshop is completed we will transition the training into the training portal for you to easily access. 
Tentative Schedule:
Class 1: Wednesday 4pm CST
Class 2: Thursday 6pm CST
Class 3: Friday 1pm CST
Class 4: Friday 6pm CST
Class 5-7 Saturday 11am-4:30pm CST
(replays will be available for all classes)
Things you'll learn...
How we shop for, make, and choose different items to be used
A list of places with coupons to buy quality supplies
A unique design by Damon Oates from DecoExchange
A unique design by Mellie Mel from Sincerely Creative Mom
A unique design by Jacquelyn Koch from The Fancy Front Door
A unique design by Jordan Matthew from Designs By Jordan
A unique design by Tammy Hodges from Polka Dot Wreath Co
A unique design by Dereka Hill from Dereka's Designs
A unique design by Marcus Gandy from Inflated Ego Designs
What you'll get...
At least 7 detailed tutorials
Recipe cards for the live tutorials (after the fact)
How you'll get it?
A private Facebook group where the lives will be streamed or videos posted
The learning portal where all replay information will be stored for you to access at any time
Wait there's more...
Bonus Tutorials
Stenciling project from Flippin Furniture
Cricut project from Print Cut Craft
Sign project from The Ruffled Daisy
Cricut Project from Owl B Crafty
No Sew wreath attachment from Woodland Ridge Design
UITC board tutorial from Your Front Porch
Fast Action Bonus Tutorials If You Join The Creative Coaching Membership
Access to the Oh Ship Training
How to photograph each of the main tutorials from the workshop
SEO list for projects for those wanting to sell their creations
Door Prizes Throughout The Workshop
DecoExchange Gift Cards
5 Stem Cutters
5 variety boxes of Greenery/Floral
5 variety ribbon boxes
5 variety sign packages
Two ways to join The You're Invited Workshop
What's Included in Option 1:

Shopping Information - $49 Value

7 Workshop Tutorials - $245 Value

Bonus Tutorials - $220 Value

Recipe Cards - $60 Value

Weekend of Fun - Priceless

Total Value: $574.00

What's Not Included in Option 1:

Creative Membership $35/Mo

How To Ship Projects $49 Value

How to Photograph Projects $49 Value
OPTION 2
CHALLENGE + CREATIVE MEMBERSHIP
$
20 + $35/Mo
/

Subscription
Join both the Backyard BBQ workshop & The Creative Membership and you'll save an additional $20 today!

Fees:

Challenge will be $20/Single Pay
Membership will be $35/Monthly until cancelled

What's Included:

Shopping Information for Workshop - $49 Value
7 Workshop Tutorials - $235 Value
6 Bonus Tutorials - $220 Value
Recipe Cards - $60 Value
Workshop SEO Lists - $25 Value
How To Ship the Workshop Projects - $49 Value
How to Photograph the Workshop Projects - $49 Value
Creative Membership Portal with 500+ recorded tutorials - $17,500 value
Private Facebook Group with 4 years of content - $1,680 value
Live Classes weekly from DecoExchange, Sincerely Creative Mom, Designs By Jordan, The Fancy Front Door, Polka Dot Wreath Co - $750 value
New Monthly Recorded Tutorials from DecoExchange, Sincerely Creative Mom, Designs by Jordan, The Fancy Front Door, Polka Dot Wreath Co, Derekas Designs - $210 Value
Bonus monthly lives from Your Front Porch (UITC Designs), Crafty Tessie (Painting / Door Hangers) - $70 value
We train on: Wreaths, Swags, Centerpieces, Garlands, Trees, Cricut, Fake Bakes, Painting, Sublimation, and more!
Exclusive Discounts from 25-30 craft vendors monthly! ($8.99/Mo value)

Months of Fun - Priceless

Total Value: $20,842

What's Not Included in Option 2:

Regrets