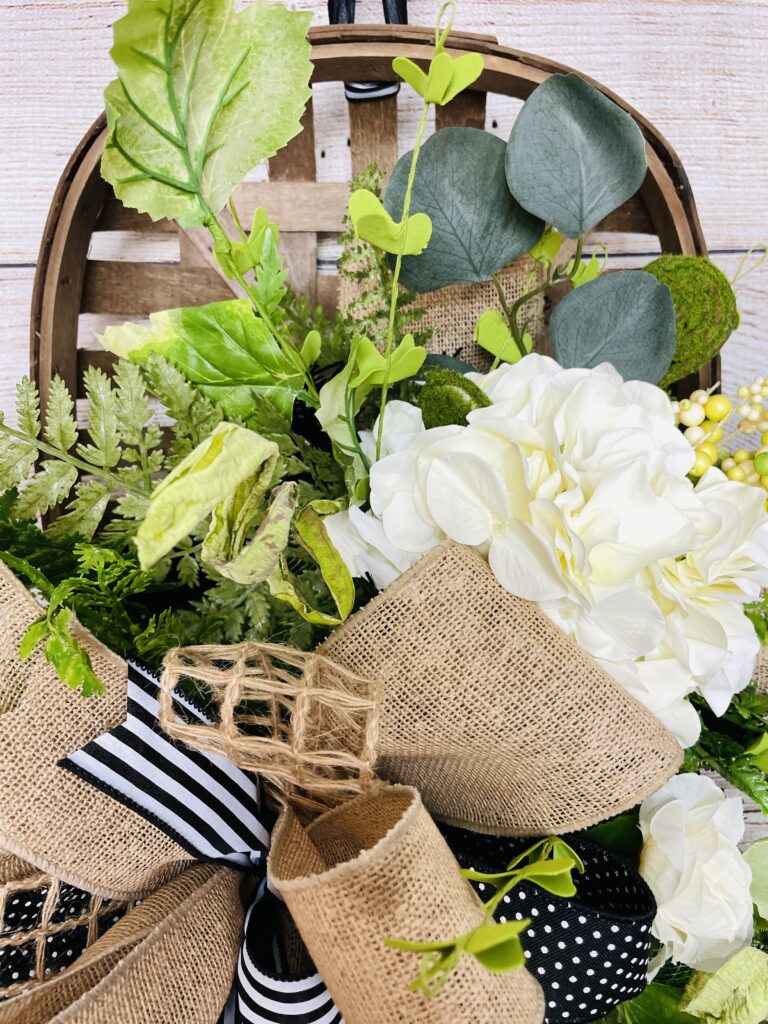 Supplies
Tobacco basket VS18713E Walmart but you can others from hobby lobby, tj maxx, Marshall's, Michaels, home goods, ect

Black 28" teardrop XX777302 DecoExchange

Green bean spray 62110SP31 DecoExchange

Rose pick EA21032912PD Walmart

White hydrangea pick 82415-CR White Bayou wreath and supplies

Fern 63345SP30 the wreath shop

Mesh RE1382NM DecoExchange

Open weave 2.5" jute ribbon RW666218 White Bayou Wreath and Supplies

2.5" burlap RG01896

4" burlap B08148VF4R Amazon CT craft

1.5" black with white Swiss dot RG0165102 DecoExchange

1.5" black with white cabana stripe Q817209-21 DecoExchange
Full Video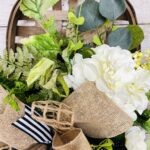 Print
Floral Tobacco Basket
Equipment
Scissors

Hot glue pot

Wire cutter
Materials
Tobacco basket VS18713E Walmart but you can others from hobby lobby

tj maxx, Marshall's, Michaels, home goods, ect

Black 28" teardrop XX777302 DecoExchange

Green bean spray 62110SP31 DecoExchange

Rose pick EA21032912PD Walmart

White hydrangea pick 82415-CR White Bayou wreath and supplies

Fern 63345SP30 the wreath shop

Mesh RE1382NM DecoExchange

Open weave 2.5" jute ribbon RW666218 white bayou wreath and supplies

1

2.5" burlap RG01896

1

4" burlap B08148VF4R Amazon CT craft

1

1.5" black with white Swiss dot RG0165102 DecoExchange

1

1.5" black with white cabana stripe Q817209-21 DecoExchange
Instructions
Preparing the Teardrop Swag
To begin, snip the tip of the 28-inch teardrop swag from DecoExchange. You may save the tabs for use in later projects. Check the swag's spine for any extra pricks, and push them back into the spine. This will ensure that the finished product is comfortable to handle and won't hurt your fingers.
Attaching the Swag to the Tobacco Basket
Place the teardrop swag on the tobacco basket, maintaining the up-and-down rectangular shape. Utilize the middle X section of the basket and ensure that the pine tines are facing outward.

Next, use zip ties or pipe cleaners to secure the swag to the basket. I recommend using zip ties, as they provide a tighter fit and ensure that your design stays in place without constant adjustments. Connect at least two zip ties for a snug fit.
Add Mesh
Start by cutting 5 pieces of 24-inch moss green mesh. This will give your tobacco basket a foundation.

Layer the mesh pieces onto the tobacco basket, positioning them so that they create a full, ruffled appearance. You may use more or fewer mesh pieces, depending on your preference.
Create your bow and ribbon tails
Next, create a large, multi-layered bow using a variety of ribbon textures and colors. Start with a long tail of 4" burlap ribbon and make accordion pinches for a voluminous effect. Making loops approximately 8 to 9 inches in size.

Next, add the 2.5" open weave ribbon, create slightly smaller loops.

Next, add the 1.5" black with white Swiss dot ribbon, create slightly smaller loops.

Next, add the 2.5" open weave ribbon, create slightly smaller loops.

Now, add another layer of 4" burlap ribbon, making smaller loops as you move along.

Finally, add 1.5" black with white cabana stripe ribbon with only 1 small loop.

Secure with a pipe cleaner.

Determine the best spot for your bow and attach to the tobacco basket.

Create some ribbon tails, dovetailing the ends with your 4" burlap ribbon. Use swag pine tines to secure.

Fluff out bow, dovetailing tails.
Add greenery
Fluff out green bean sprays, spread out each stems.

Trim extra stem length and separate into section. Dip in hot glue and insert behind bow. Twist into pine tine for extra security.

Incorporate green bean stems between bow and mesh throughout for a natural look.

Fill in with more greenery stems.

Trim your white hydrangea blooms leaving a little greenery attached.

Secure to your design with hot glue.

Next trim and add your cream rose blooms.