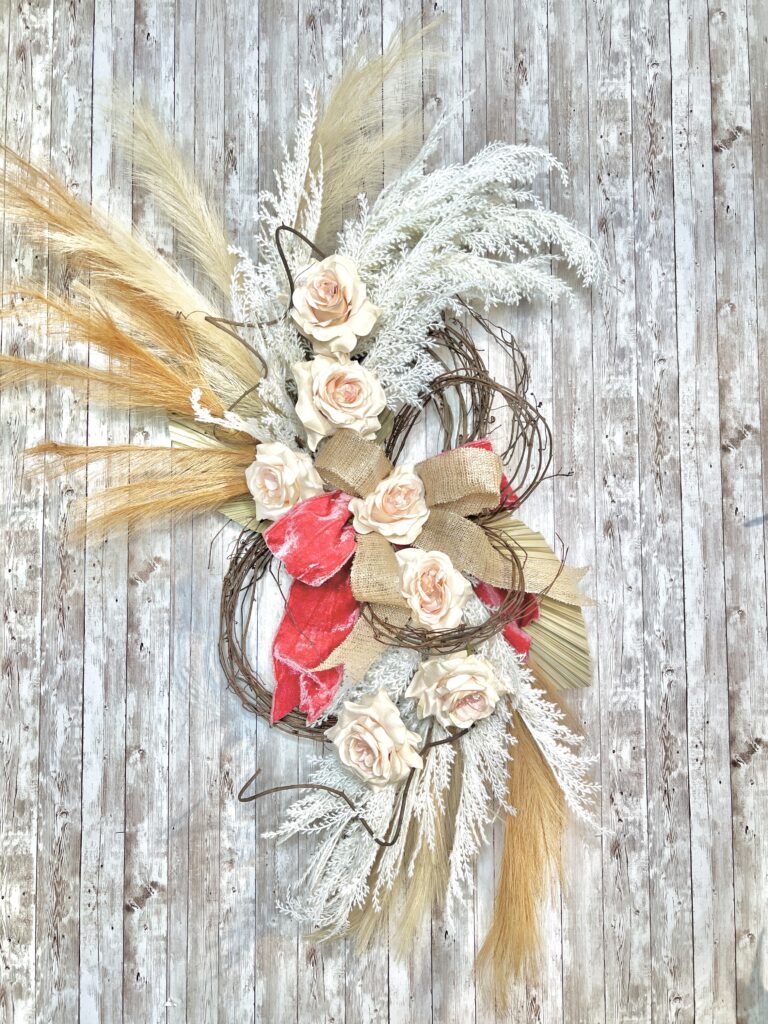 Tools
Scissors
Wire cutters
Hot glue gun or pot
Supplies
14″ round grapevine – DecoExchange
2 XL flocked pampas sprays – DecoExchange
4 pampas stems – DecoExchange
1 rose bush – At Home
2 dried palm fans – DecoExchange
4″ salmon crushed velvet ribbon – The Fancy Front Door
2.5″ burlap ribbon – Michael's
zip ties
Full Video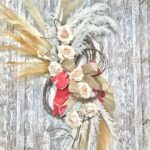 Print
Pampas Rustic Boho Grapevine
Equipment
Scissors

Wire Cutters

Hot glue gun or pot
Materials
1

14" round grapevine - DecoExchange

2

XL flocked pampas sprays - DecoExchange

4

pampas stems - DecoExchange

1

rose bush - At Home

2

dried palm fans - DecoExchange

4

feathery or wheat type stem

1

4" salmon crushed velvet ribbon - The Fancy Front Door

1

2.5" burlap ribbon - Michael's

zip ties

lots of them
Instructions
Prep the grapevine
Cut off the binding branches in two opposite spots using a wire cutter

Remove the binding branches from the base entirely. Creating an unbound grapevine.

Separate the grapevine in half and form a figure-8 like formation.

Zip tie at the center point.
Adding stems, fans, and sprays
Spread out the XL pampas stem, fluffing it out.

Bend it flow in the direction of the top circle.

Zip tie pampas stem down to the grapevine base.

Repeat the process on the opposite side at the bottom circle, creating an 'S' like shape.

Adjust the shape of the pampas stem to the wreath form.

Trim any stray stems and glue into the center point.

Incorporate the dried palm stems behind the pampas and grapevine, trimming the excess stem.

Trim individual pampas stems.

Add them in between the XL pampas stem to create texture.

Add 2 feathery or wheat type stem into each side near the XL pampas stem.

Tuck them into the bare spots and covering up the zip ties.
Make a boho bow
Using the 4" salmon crushed velvet ribbon, make a loop from back to front.

Give it a good twist to keep the velvet on the outside. Create a 2nd loop.

Next add your 2.5" burlap ribbon make a loop from back to front.

Give it a twist and create a 2nd loop.

Secure that together with a zip tie.

Cut your tails keeping the 4" ribbon longer than the burlap one.

Attach to the center of the design with a zip tie.

Add another rose in the middle of the bow. Adding glue to secure.