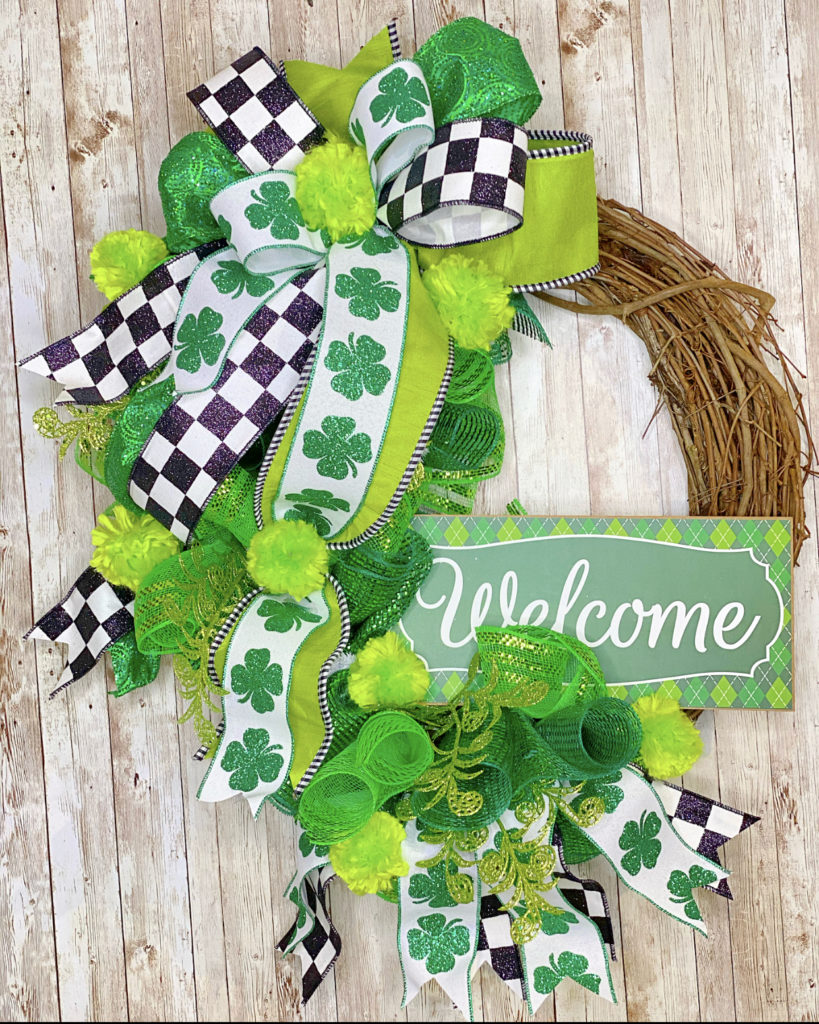 Materials
1 wreath 18″ grapevine wreath
1 unit 10″ work frame
1 pack pipe cleaners
1 pack zip ties
2 rolls 10″ deco mesh 2 different colors
1 unit St. Patrick's Day wreath sign
2 rolls 4.5″ wired ribbon different styles
1 roll 2.5″ wired ribbon
1 roll 1.5″ wired ribbon
See the full instructions below the videos.
VIDEO #1
VIDEO #2
VIDEO #3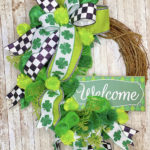 Print
St Patrick's Day Grapevine
Materials
1

wreath

18" grapevine wreath

1

unit

10" work frame

1

pack

pipe cleaners

1

pack

zip ties

2

rolls

10" deco mesh

2 different colors

1

unit

St. Patrick's Day wreath sign

2

rolls

4.5" wired ribbon

different styles

1

roll

2.5" wired ribbon

1

roll

1.5" wired ribbon
Instructions
Prepping your base.
Start with an 18" grape vine.

Take a 10" wreath frame with 12 pipe cleaners attached and cut it open to create a C shape.

Stretch it open and attach the C shape to the left of your grapevine, securing it with zip ties.

Fluff out all your pipe cleaners.

Take 2 different colors of green 10" mesh and cut 6 17" pieces of each color.

Curl your edges inside and then pinch the middle. Secure it into a pipe cleaner.

Repeat this process alternating colors until all your pipe cleaners have a cruffle.

Add your sign onto your wreath and secure it with cable tie mounts
Make and add your bow.
Start with 4 different ribbons matching your color scheme.

Start with your biggest ribbon and create a 4" tail that will stick up in the end product, and 1 Big loop either side and keep your other tail long. Make sure your loops are pretty side up.

Take your next ribbon and repeat the same process.

Repeat this with your remaining 2 ribbons.

Use a zip tie to secure your bows together.

Attach your bow into one of your twist ties at the top of your wreath.

Fluff out your bow.

Dovetail your short tails.

Take two of your long tails, layer them and create a billow. Attach it into a twist tie le. Dovetail the ends.

Take your other two tails and do the same on the other side.
Adding your decoration.
Add in some lime green glitter leaves in and around your mesh and bow, remembering to watch your direction and keep your right hand side empty.

Add in some bright green fluff balls.

Make some extra ribbon tails using 2 ribbons to add underneath your wreath.

Dovetail the ends.