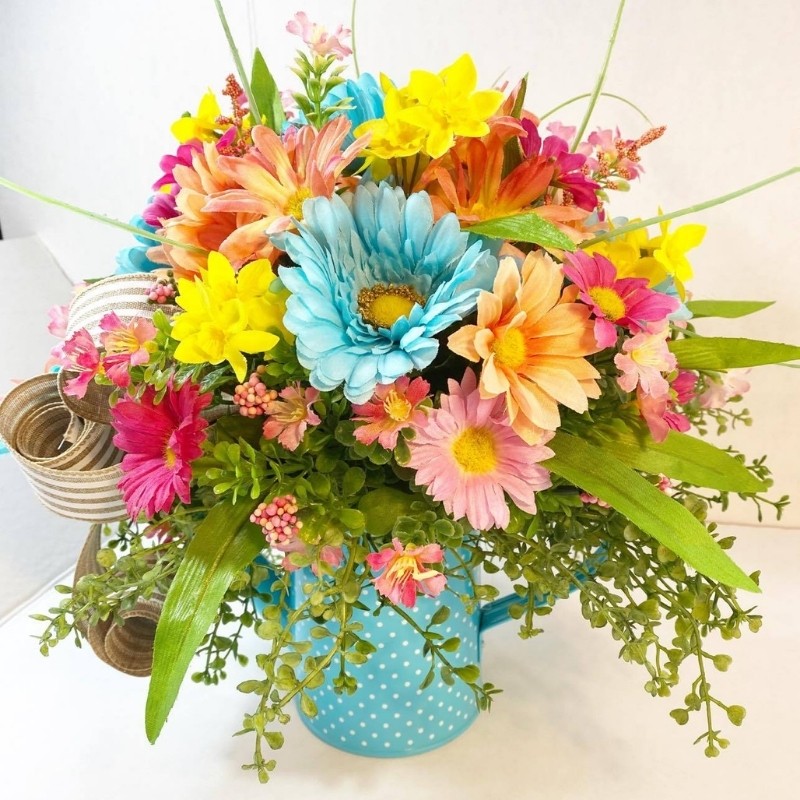 Quick Video (Full Video Tutorial Below)
TOOLS:
Wire cutters
Scissors
Glue pot
SUPPLIES:
Small decorative watering can
Great Stuff Gaps & Cracks – Spray Foam Sealant
Spanish moss
Assorted floral stems
Assorted greenery stems
(3) 1.5" wired ribbon
Floral pins
Wooden pick with wire
Pipe cleaners
Full Video Tutorial
Spring Floral Centerpiece
Equipment
Wire Cutters

Scissors

Glue pot
Materials
1

unit

Small decorative watering can

1

can

Great Stuff Gaps & Cracks - Spray Foam Sealant

1

package

Spanish moss

2-3

bunches

Assorted floral stems

2-3

bunches

Assorted greenery stems

3

rolls

various 1.5" wired ribbon

1

pack

Floral pins

1

pack

Wooden pick with wire

1

pack

pipe cleaners
Instructions
Prepping Your Moss Base
Fill the watering can halfway with spray foam sealant.

Let it sit for a week to completely dry.

Cover visible foam with spanish moss.

Dip floral pin tips into glue pot and pin moss into foam base.

Create a small patty of moss to cover the watering can spout. 

Add glue to spout and add your moss potty.
Adding Florals & Greenery:
Pick your main focal point flower, usually this will be the biggest blooms out of your floral bunches.

Then layer the other flowers in.

Trim individual floral stems at the closest point to the main stem using wire cutters.

Remove any excess covering over the wired stems.

Add glue to the stems and stick them right into the foam base.

Work your way around, moving the watering can so your floral design looks natural.

When working with sets of 3, keep those 3 in a triangle form to create balance.

You want the floral bouquet to have a nice round look to it. 

Keep filling until your bouquet is thick and gorgeous!

Use greenery to help the transition between floral stems and watering can. 

Dip the greenery stems into glue pot and insert near the base of the floral stems. 

Let them hang over the edge for a beautiful transition.

Finish off with a flower bloom over the moss covered spout.
Making a Bow
With 1 ½" ribbon, make a single 5" loop with 20" tails. Secure with a small pipe cleaner. 

Add the wooden pick into the pipe cleaner, and twist it securely. Use the wire from the wooden pick to wrap around the ribbon loop for extra security.

Insert into the foam base for the finishing touch.