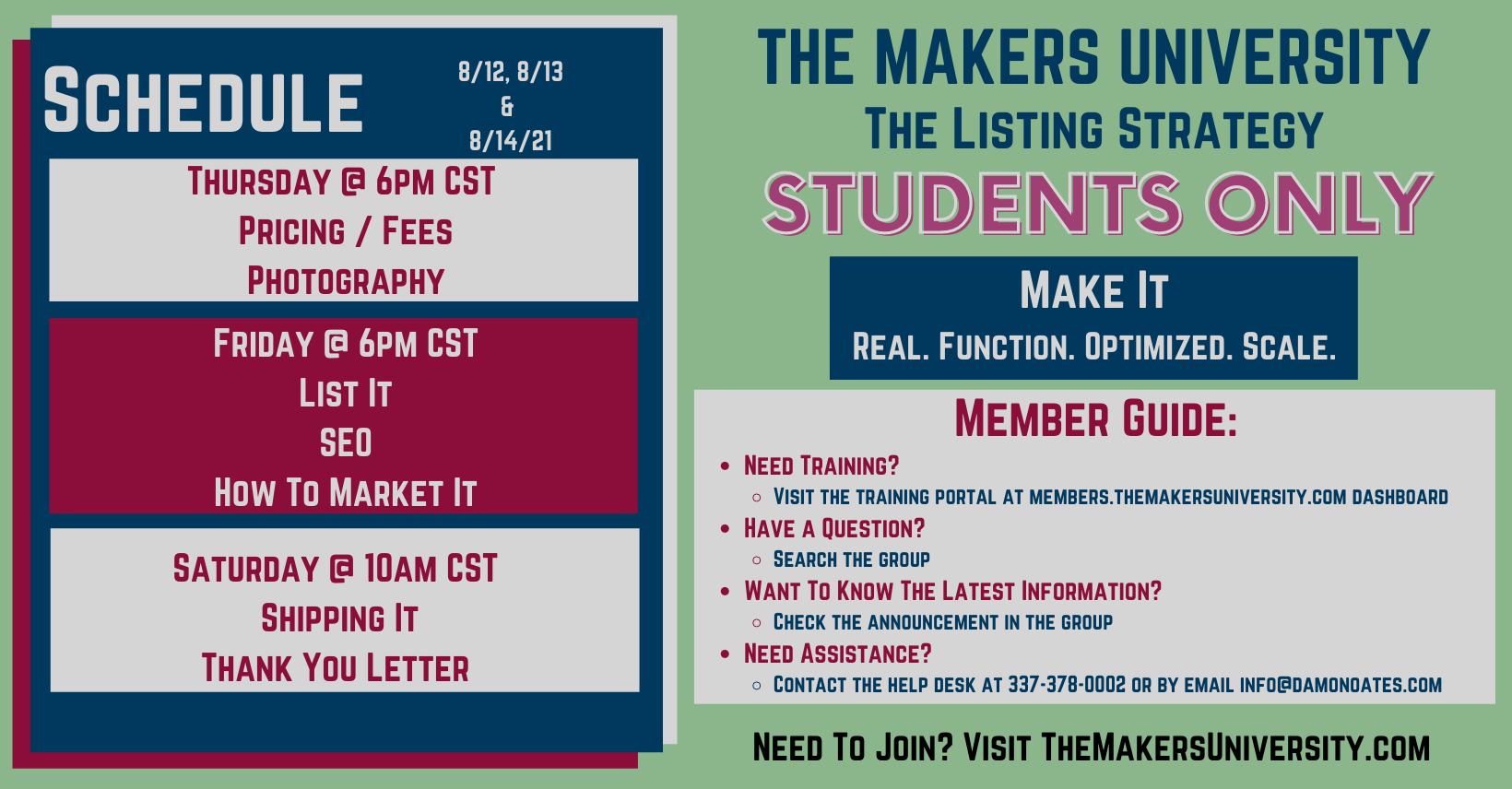 Hosted By Damon Oates from The Makers University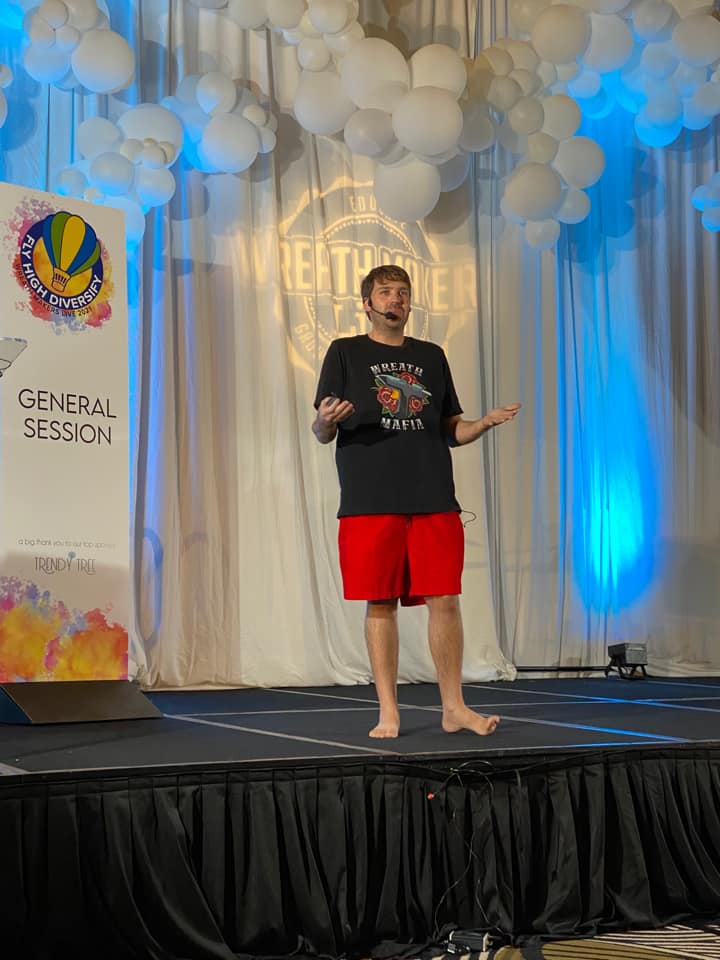 I spent a few days talking Face to Face with Creatives and the message I heard over and over was around Fear... 
Fear to get started
Fear to break something
Fear to fail
With those conversations in mind I wanted to take you behind the scenes of my personal listing strategy and show you just how easy selling your wreaths online can be. 
What is The Listing Strategy Event?
It's 3 days of classes from Damon from DecoExchange. Damon will walk you through the process that he does after creating a wreath so that we can help you sell more. 
What we will cover:
Day 1 @ 6pm CST 8/12/21:

How to price a wreath
How to photograph the wreath (with and without equipment)
How to edit the photo
How to open an Etsy shop if you don't already have it

Day 2 @ 6pm CST 8/13/21:

How to audit your Etsy shop to see why you're not currently making sales
Importance of SEO
SEO Research
Create 1st listing
Adding video to listings
Q&A

Day 3 @ 10am CST 8/14/21:

Damon's Marketing Strategy
What do you do after a sale

Shipping
Thank You Letter
Get a review
Get the customer to come back

Q&A
When is the class?
The classes will be held on 8/12/21 - 8/14/21. You will keep access to all of the training videos to re-watch as needed. After the challenge is completed we will transition the training into the training portal for you to easily access. 
How you'll get it?
A private Facebook group where the lives will be streamed or videos posted
The learning portal where all information will be stored for you to access at any time
What we will not cover:
How to create a Facebook Business Page
How to create a Pinterest Business Account
How to create an Instagram Account
How to join in on The Event
What's Included in Option 1:

What we will cover:

Day 1 @ 6pm CST 8/12/21:

How to price a wreath

How to photograph the wreath (with and without equipment)

How to edit the photo

How to open an Etsy shop if you don't already have it

Day 2 @ 6pm CST 8/13/21:

How to audit your Etsy shop to see why you're not currently making sales

Importance of SEO

SEO Research

Create 1st listing

Adding video to listings

Q&A

Day 3 @ 10am CST 8/14/21:

Damon's Marketing Strategy

What do you do after a sale

Shipping

Thank You Letter

Get a review

Get the customer to come back

Q&A

What's Not Included in Option 1:

Business Coaching Membership

How to create a Facebook Business Page

How to create a Pinterest Business Account

How to create an Instagram Account
Option 2: Save $639
CHALLENGE + BUSINESS MEMBERSHIP
$
15 + $57/Mo
/

Subscription
Join both the Listing Strategy and Business Membership and you'll save $639.00 today!

Fees:

Class will be $15/Single Pay

Membership will be $57/Monthly

What's Included:

Day 1 @ 6pm CST 8/12/21:

How to price a wreath

How to photograph the wreath (with and without equipment)

How to edit the photo

How to open an Etsy shop if you don't already have it

Day 2 @ 6pm CST 8/13/21:

How to audit your Etsy shop to see why you're not currently making sales

Importance of SEO

SEO Research

Create 1st listing

Adding video to listings

Q&A

Day 3 @ 10am CST 8/14/21:

Damon's Marketing Strategy

What do you do after a sale

Shipping

Thank You Letter

Get a review

Get the customer to come back

Q&A

The ChaChing Blueprint
Complete Etsy training
Complete Pinterest training
Complete Facebook training
Complete Email training
Masterclasses
2 hours of Live Support available Monday-Friday
Private Facebook Community
Private Membership Portal

What's Not Included:

Missed opportunities